In a recent report, Forrester Research stated smartphone users are quickly surpassing active desktop users because mobile adoption rates have soared over the last five years.  Market research shows there has been a dramatic mobile mind shift among consumers, and mobile users are now engaging 2x more than web users on a daily basis.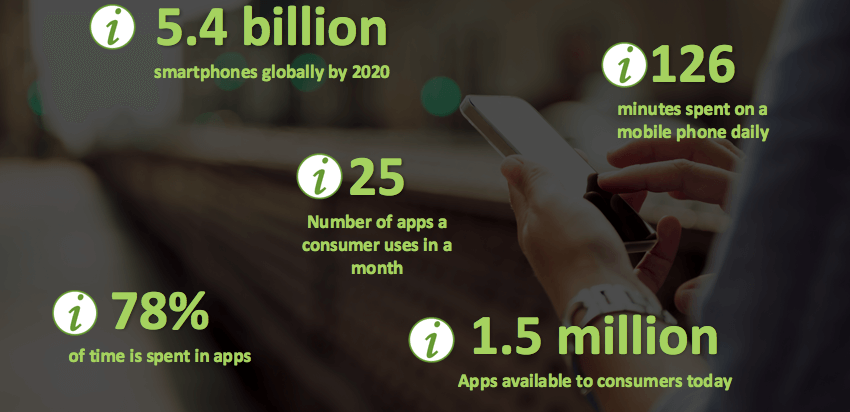 What is a mobile mind shift?

This consumer shift has led to the birth of a new term 'mobile moments', a moment in time when a consumer pulls out his or her phone expecting to get what she wants in her immediate context.
So how do you satisfy this 'Very-demanding Mobile Consumer'?
Forrester Research has recorded that there are 30 Billion micro moments that take place every day. Developers and marketers can no longer rely on old marketing approaches from the good old desktop days and are now required to implement new engagement strategies to connect with users in real-time, using mobile moments.
To take advantage of these new opportunities, companies need to create more personalized app marketing campaigns to connect with app users at the right time and the right moment. The most important step for a marketer is to track users through the different stages of their customer journey. Segmenting each customer into different buckets and contexts based on their current actions and location.
Different groups of users naturally create varying degrees of value for your mobile business. You need to define who these users are and develop a deep understanding of their wants and needs.  More importantly, you need to treat each one of these users individually and engage in a more personalized way.
By tracking a mobile users actions,  it's the context you gain from behavioral segmenting that will directly translate to increased performance and user retention on your mobile marketing campaigns.
In the following webinar video, Forrester Research and CleverTap shares deep insights about what the current mobile landscape looks like in terms of the current consumer behavior and expectations and how majority of these end up as lost opportunities.  
This hour-long webinar video covers the following topics in depth-
How to breakup your user journey into simpler, progressive milestones

How to segment users to track and understand them along their personal journey

How to engage each segment differently to move them forward