Replacing legacy Email Marketing and CRM systems has been one of the challenges we took to solving at CleverTap. I'll be frank, it's been difficult sell to get our customers to completely switch over to CleverTap for all their email communications. Seasoned marketers are well versed with standalone email systems which do the job without really inferring from what users do on their web/apps. While email still guarantees delivery viz a viz other channels, it's been increasingly difficult to get users to even open an email. Sending emails functionally isn't the requirement anymore with increasing dependencies on users behaviour inside your app.
To be able to replace an existing email solution (usually an entire product) with only a part of the product (feature) in CleverTap is a scary thought for some. This makes solutionizing the product important for CleverTap be able to firstly, support all use cases and secondly add considerable value over their existing set up to make the switch worthy.
To be able to model a lot of these email campaigns, it's always important to understand what stage of the lifecycle a customer is in. I've broken them down as;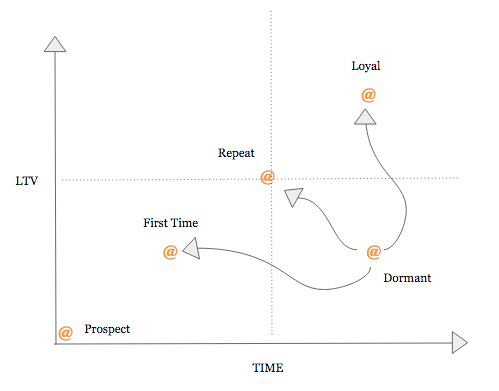 Migrating your customer lifecycle emails campaigns

We see emails campaigns to be of two types. One time email campaigns are all your promotional & one off's to reach usually all your customers or a broader set by a demographic, customer type, past behaviour & location etc. While the second type is Triggered emails, based on actions your user may or may not perform in the future.
Advantages? While most of your usual email campaigns are doable under one time & triggered on a user action – where CleverTap really adds value is the ability to do triggered emails on a user in-action (think abandoned carts) and based on a future date and time (think birthday & order status) out of the box, without any additional set up. Adding to the overall ability is the real-time trigger, ability to extensively personalise with user properties (name, customer type & favourites) and user actions (content, context & relevance).
Setting up and sending emails
Bring in your provider. CleverTap supports all major ones. SMTP for the brave.

Prospect Customers
Prospect customers are usually anonymous making it.. tricky (never say never) to address them via emails. Emails in the prospect stage include, onboarding emails (Sign up and Verification), follow through emails after a few hours/days about your service and thought through emails based on what the user did on your app. Here's how you can set them up;
On a user action 'Signed Up' trigger an email campaign to send your verification email with personalisation for customer name.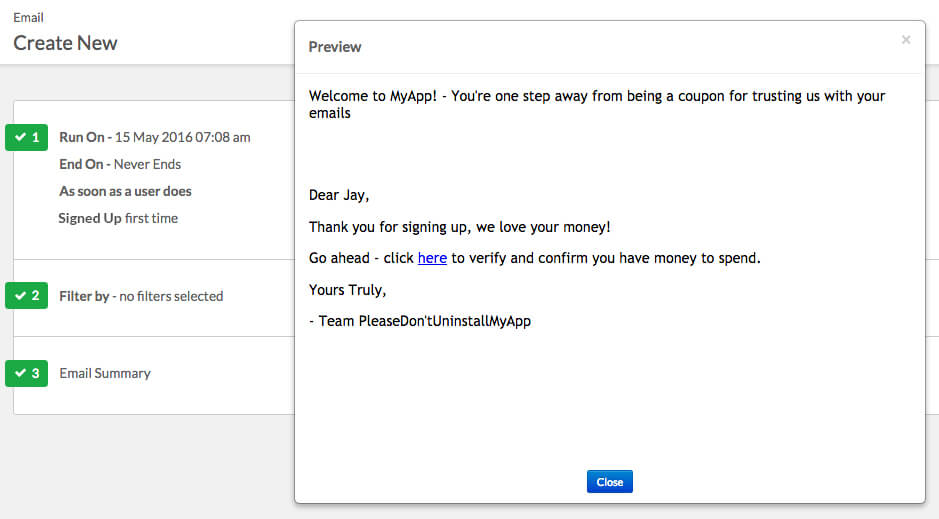 On a user action 'Verified' trigger a follow through email introducing your service with personalisation for unique coupon codes.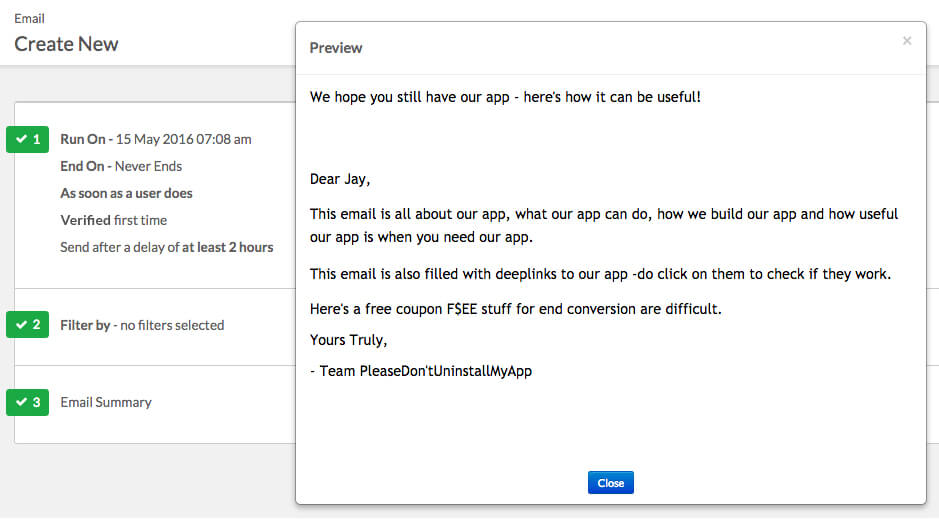 First Time Customers
These are freshly minted customers who bought your service for the very first time. Emails here generally include Order Confirmation right after purchase and a nudge to spread the good word completing the viral loop by rating their experience with you.
On a user inaction 'Rate App' after 'Charged', trigger an email asking for feedback about their first experience with personalisation for product name.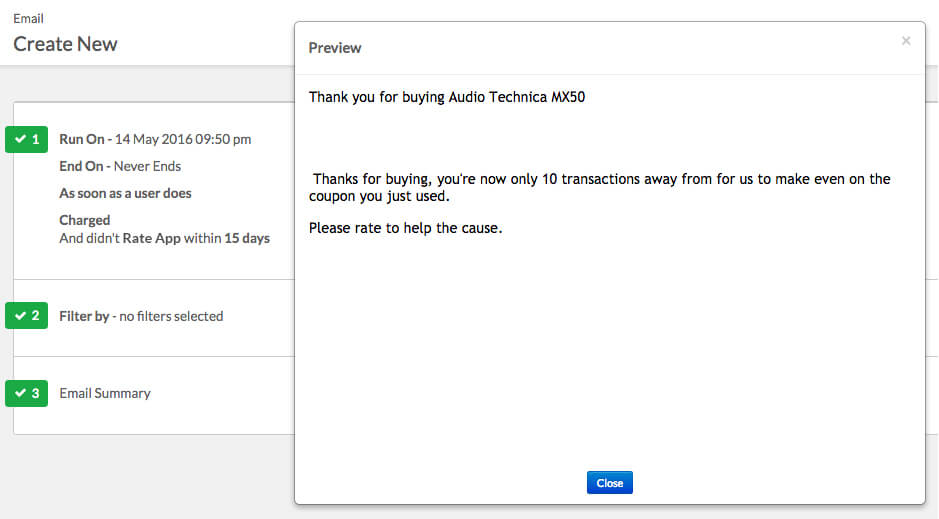 Repeat Customers
My data science team tells me, this interaction with user is a moment of truth and determines if a customer is a long staying one or discount hungry. Both are repeating customers, retaining them is very critical for long term increase in LTV. Emails here could include Order Status and Recommendations based on their past purchases. Ability to do retargeting based on a users browsing behaviour on your app is the plus of using CleverTap.
Trigger an inaction email on 'Charged', 30 days after the last purchase. We've personalised based on the category of their last purchase.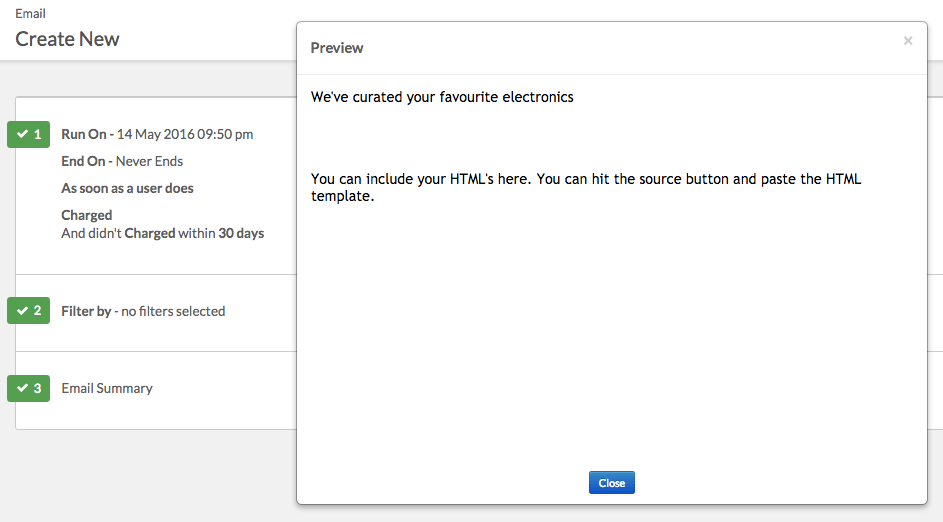 Dormant Customers
Dormant customers are perfect for retargeting based on categories they viewed last, as well as some favourites they searched and shared. With acquisition costs skyrocketing,  CleverTap helps you retarget dormant customers based on actions they do while on the app and favourites items searched for. Emails here include reengagement via users favourite categories.
Your Email's can be personalised to include items they searched on the app.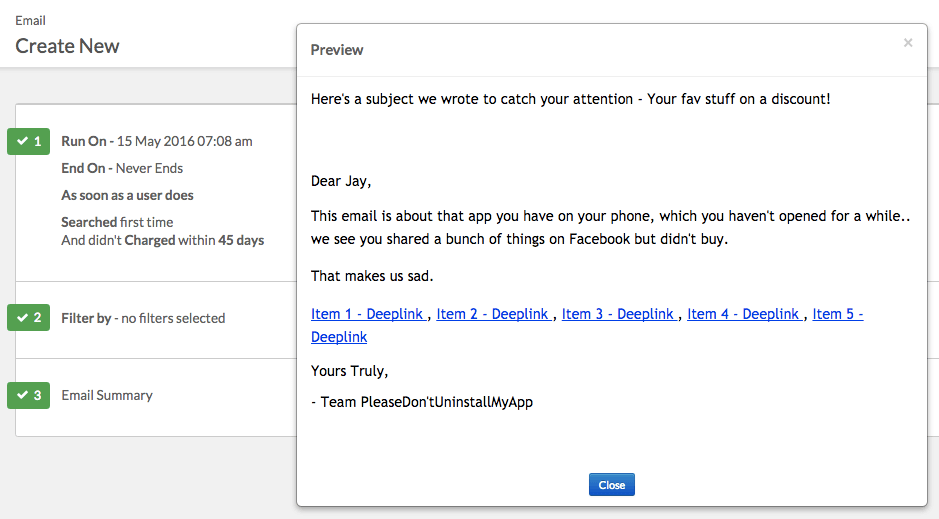 Loyalty Customers
Promotional emails are generally a part of loyalty customer engagement strategy. These are one-off campaigns on the weekend, nudging end conversion based on actions they did in the past, their past purchases as well as customer loyalty/type.
You can add multiple targeting criterias to ensure the cream of the audience receives it.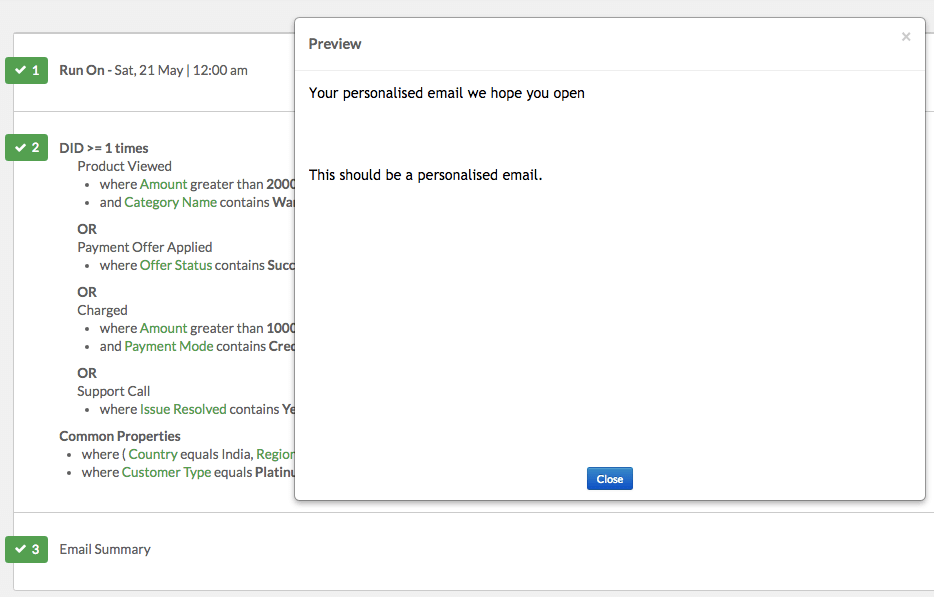 It's time to switch all your Customer Lifecycle emails! Have a campaign in mind but not sure how to go about it? We've got a comment section under.