The cornerstone of any engagement and retention strategy is sending timely, personalized and contextual messages…on exactly the right channel for your users.
We've just released two new campaign channels – Web Push and SMS so you have more options to reach your users in the best way.
What is Web Push and how does it work? 
Web Push notifications let you you deliver notifications to your users right in their browser – even when the user is not on your website. (The current release supports Chrome. We'll support Firefox and Safari in the future).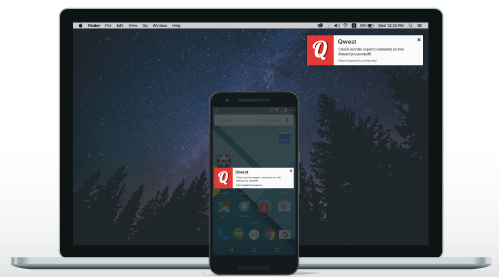 These notifications do not depend on your user having a mobile app. They work through your desktop or mobile websites. To receive a notification, your user must first opt-in to receiving notifications for your site (see below) then you can reach your users whether they are on your site or not.
The notifications themselves work exactly like Mobile Push notifications. You can schedule or trigger their delivery based on a user's activity. You can personalize them to include fields from the user's profile or reflect their activity in the message body. And of course you can add Deep Links to direct the user to a particular page or even to a download link to get your mobile app.
What do I use Web Push For?
As people use your service on the web you can send notifications via Web Push announcing a new feature or to remind them to come back. Just as you would with Mobile Push.
Or perhaps a user that has come to your website and didn't complete their sign-up process. Use Web Push to remind them to come back and register.
You can even use Web Push to help drive mobile downloads. Say you have a website and a mobile app but your user's haven't yet downloaded it. When they come to your site (and after they have opted in to receive Web Push), you can encourage them to download your mobile app with a notification and a link to the app store.
Web Push along with Mobile Push, In-App, Email, Web, SMS and Facebook Audiences gives you a complete set of channels for building a comprehensive engagement strategy.
How do I get Started?
Everything you need to get going is here in our Web Push Documentation.
You'll need to embed a small snippet of JavaScript into your mobile and desktop websites, configure your GCM Sender IDs and host a script (Chrome service worker file) on your website. Web Push only works on https sites.
It'll only take a few minutes to complete the integration. Then on to building Web Push campaigns in your Dashboard.
As mentioned above, you must ask your user to Opt-In to receive Web Push notifications. For flexibility, we provide you with the ability to ask for notifications based on context and user actions.
Take advantage of this configurability. We highly recommend asking for permission from users only after they've spent some time on your website, and completed an action of significance. Do not ask new users to subscribe for notifications as soon as they land on your site.
The biggest pitfall with Web Push is most users will Opt-Out if they don't see a clear value to receiving these notifications.