The goal for many marketers is to automate the routine. Once you understand when to reach your users, on which channels they respond, and with what types of messaging, savvy marketers look to automation to make their lives simple.
That's why we've introduced two new types of Recurring Campaigns to complement our Scheduled (one-time) and Triggered campaigns.
Recurring Campaigns are often used in concert with our new Relative Time Ranges. In fact this is why we've introduced these two features at the same time.
By definition a recurring campaign sends the same message (the contents of the message) to users at a defined interval each day, week or month. For example you may send a "Tips and Tricks" message every Monday to all New Users who signed up 6 to 7 days ago. (You've already sent these users a "Welcome" message the moment they registered. Now you'd like to deepen their engagement after they have been on your service for about a week.)
Recurring Campaigns ensure the message goes out each Monday (this is your automation feature)
Relative Time Ranges ensure that you'll never send this message to the same user more than once – the relative window only captures your new users who have been on the service for 6 or 7 days. (Each Monday when the next campaign gets sent out only your newest set of users will qualify for the campaign.)
Now the rundown of all specifics with Recurring Campaigns:
When you create any campaign using a Past Behavior Segment you'll see three Campaign Types to choose from:
One-Time

On Multiple Dates (

NEW

)

Recurring (

NEW

)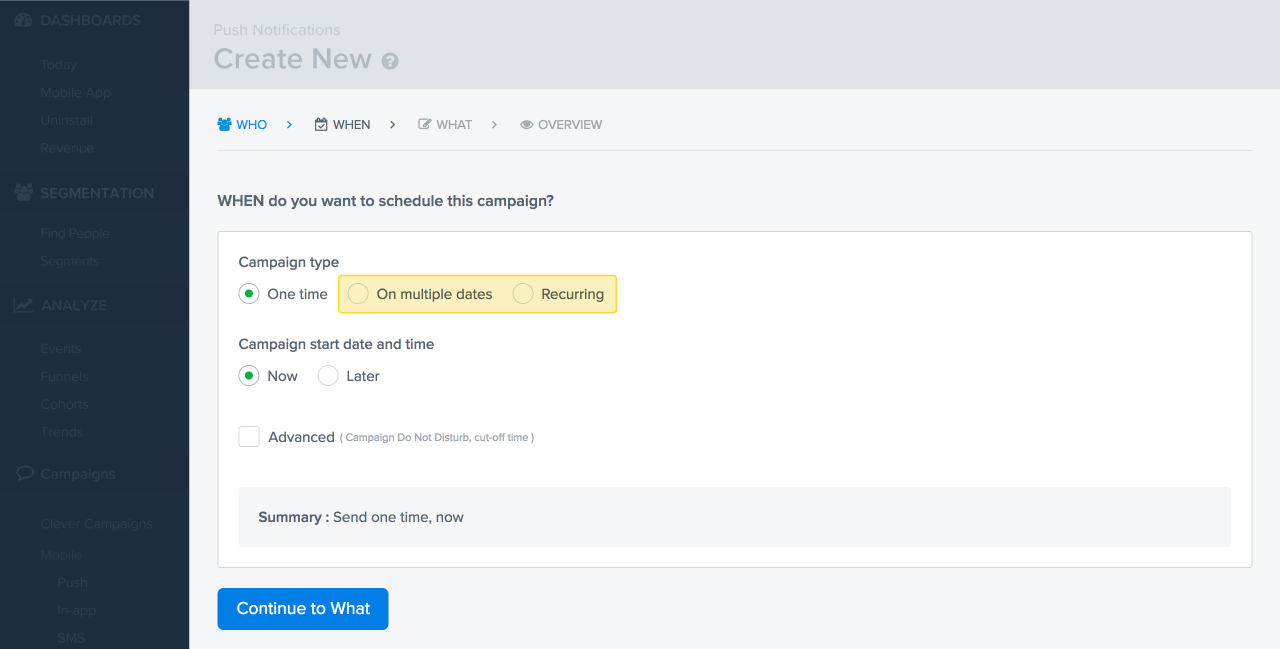 Campaign Type:  On Multiple Dates
Choose Multiple Date campaigns when you want to send a finite number of messages on specific dates. For example, you may wish to send a series of notifications on specific dates preceding an upcoming event.


Campaign Type:  Recurring
Recurring campaigns repeat on Daily, Weekly or Monthly intervals.
Daily Recurring Campaigns let you send a campaign every day, every other day, every 3rd day, etc.
Schedule a campaign to go out every day to welcome all your new users from the prior day.

Send a message every 3rd day for all new subscribers with with new features to explore

Send a Daily Happy Birthday message to users with a birthday today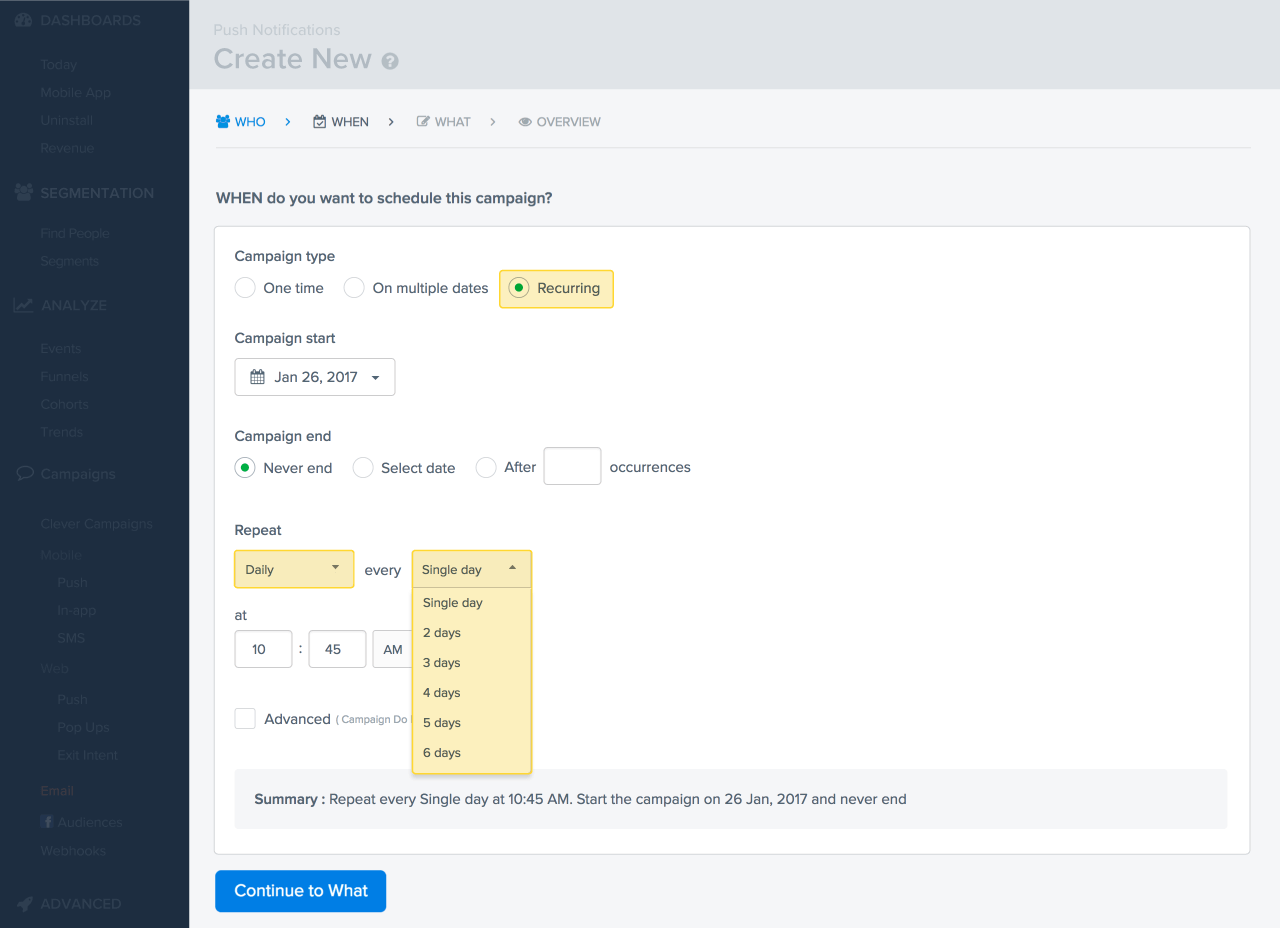 Weekly Recurring Campaigns let you send campaigns on specific days of the week – recurring each week, every other week, every third week, etc.
A News App might schedule a campaign to go out on Monday and Friday every week – to highlight news to begin and end your week.

A Music App might schedule a campaign for Sat every other week for information about a spotlighted artist.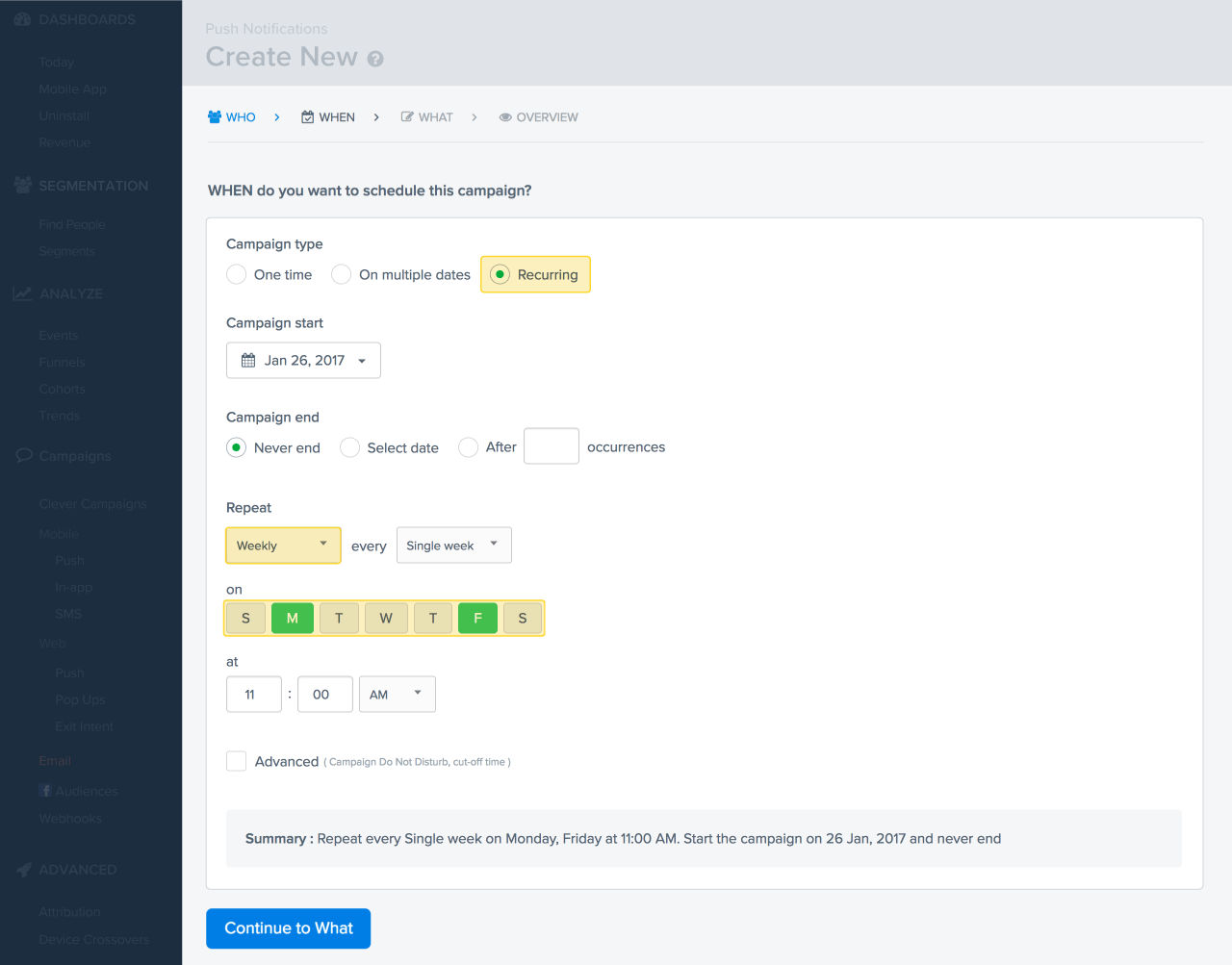 Monthly Recurring Campaigns lets you send campaigns on specific days of the month or days of the week – recurring each month, every other month, every third month, etc.
Set up a campaign to send a message every Sunday of the Month and the first and third Saturday.