Behavioral Segmentation is the grouping of users based on what they do in your app. You've already been using Behavioral Segments every time you create and deliver an engagement campaign in CleverTap. In our latest release we've made Segments a standalone feature so you can leverage the power of segmentation across both your analytics and campaigns.
In this new release you'll notice a few changes when you create campaigns. Let's walk through them step by step.
Go to the Campaign Overview page for any channel (Push, In-App, etc) and select "Create new."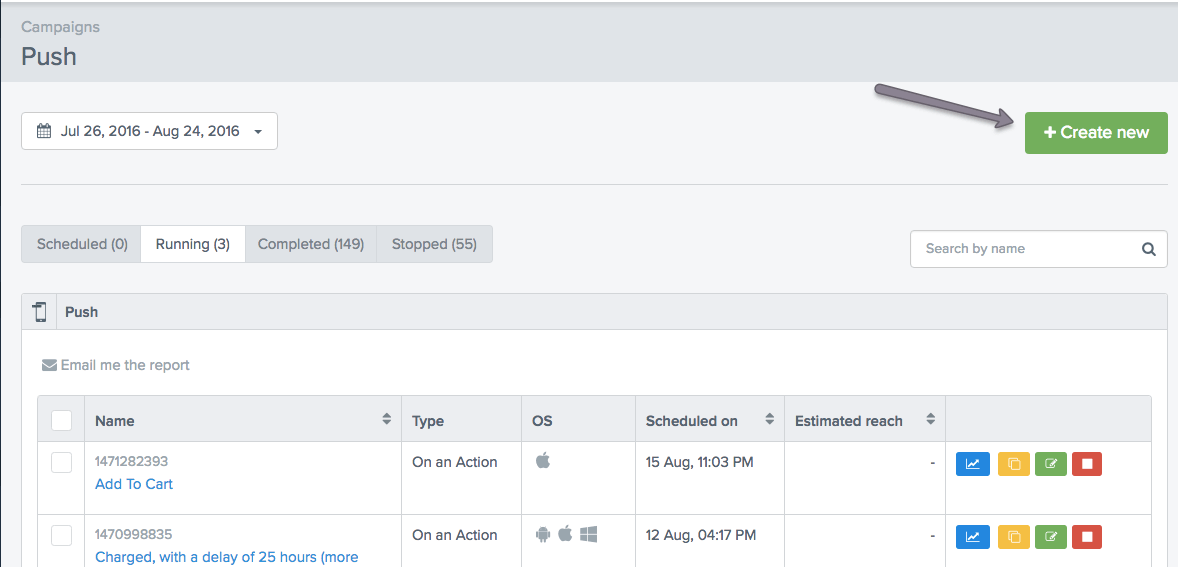 This takes you to a page listing of all your saved segments with options to create new segments for use in your campaign. In the prior version you would have seen a page prompting you select the type of Campaign to create:  Scheduled (Now or on a Date/Time) and Triggered (Action, Inaction, based on a Date/Time Property)
Why the change?
Think of a segment as a list of users you want to engage with. We've made it easy to create and save segments based on any combination of user activity and user properties. You can analyze each segment in detail to understand it's size, reachability and key metrics associated with it you'd like to drive.
Now when you go to create campaigns, your segments are right there to pick from. When you select one of your saved segments you are off on the familiar campaign flow.
If you don't have the right segment already saved, you can create a newad-hoc segment just for that single campaign or a saved segment bookmark.  (Ad hoc segments are not saved after the campaign is sent.  Bookmarks are lightweight segments that are private to the person who created it.)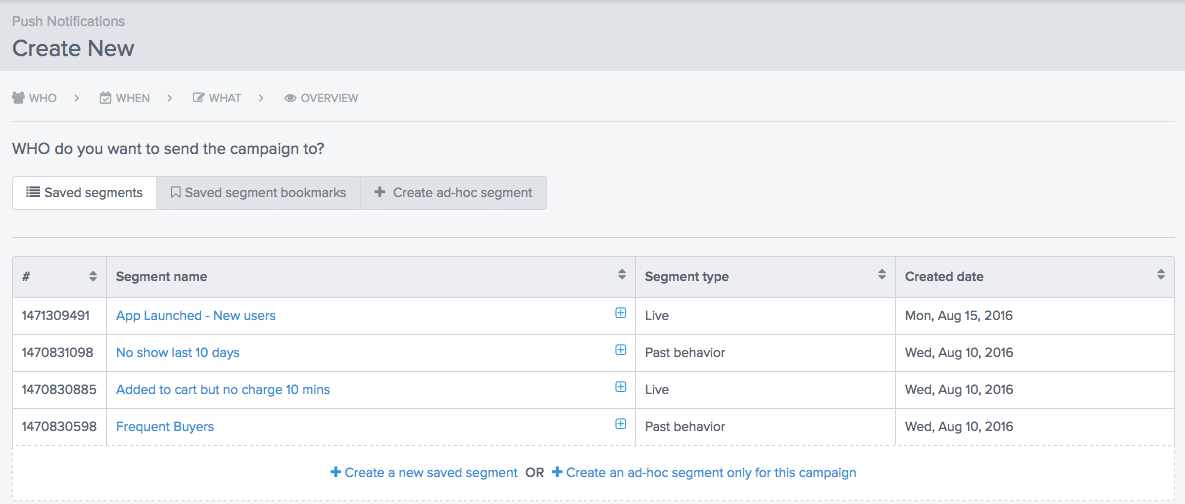 To create a Scheduled Campaign (send Now or at a Date/Time in future)
Select Create ad hoc segment — takes you to the page below
Select from one of the Past Behavior segment cards to create your segment – this will open up a familiar interface to select user actions and properties.
After your have created your ad hoc segment you'll be off on the familiar campaign creation flow
To create a Triggered Campaign (based on user Action, Inaction or from Date/Time property)
Select Create ad hoc segment
Select from one of the Live User Segment cards for the type of campaign you wish to create – they map directly to the Triggered Campaign options from the prior version
After creating this ad hoc segment you'll be off on the familiar campaign creation flow
That's all there is to it.
As you get used to creating and saving segments (read all about behavioral segments here) we think you'll like how easy it is to find users of interest, analyze their behavior, target them with a campaign and measure its impact on your key metrics.
Try it out and let us know what you think.